Award Day

Jen, at Reflections in the Window, has bestowed upon me 2 awards and said some really nice things about my blog in this Monday's At The Well post's comment.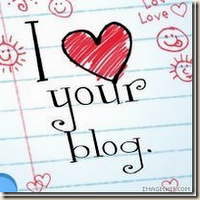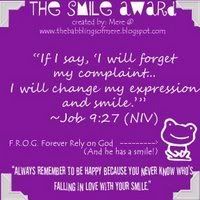 Blog awards are nice. They let you know that you're really making a difference with your blog. When I write, I write what's on my heart. My dream is to write for God, devotionals, I think, and while I am in the baby stages of that dream and really don't know where God is going with this dream He has laid on my heart, I do know that I absolutely love blogging.

I love the serious meme's throughout the week that inspire me to bear my soul and hopefully encourage someone along the way. If I can bring one person closer to Christ or even to Christ with a post, then my dream is fulfilled, because my heart beats to glorify God. That's all I want to do. Live in His will, walk in His will, serve Him wholeheartedly.

I see others doing this and it means so much to me. They are miles ahead of where I want to be and I really look up to them and admire their walk with Christ and their writing.

I'm going to pick everyone who reads and comments on this post to share these awards with.

Share the love with others. God bless you!