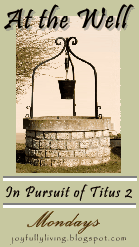 This week's At the Well topic is Sweet Talk, and is hosted by Cindy Beall.

How do you talk about your husband? Do you build him up or tear him down?

I love the verse Cindy shared.


We should always be our husband's biggest fan, especially in his hearing. We need to build him up and speak positively about him to others. Not only is it a directive from God, but it's an esteem booster for our men.

I learned this lesson the hard way. A long time ago, I used my mother and sister as a sounding board for everything negative in my marriage. Our road was rocky and I said some majorly things I shouldn't have. I nearly lost my relationship with my family because of it. It was so bad that my sister chose not to invite my husband to our marriage. I had a choice to make. How could I attend without him? And holiday events? Oh my!

It took us a long time to get back to the place we were, God was faithful and I learned my lesson. My family now re-adores Steve, and I speak only the good and wholesome things about him, which there mostly are!

My husband is a great guy. He is my knight in shining armor, my best friend, my confidant, my lover, he can fix anything, build anything, and does kind things for me.

My husband is the love of my life, and I want him to be well-liked by everyone. He's a great guy!

A word of warning, never join in on husband-bashing. It can creep into conversations before you know it.

Her: "My man never takes out the trash."
She: "Yeah, well mine leaves the toilet seat up *all* the time!"
I: "What is up with men? Can you believe mine won't even...."
She: "Yeah! I know! Last night my husband said...."
Her: "What a jerk, I asked mine to do the dishes and he said..."

And it is on, my friend.

Instead, build him up. Walk away from conversations where other women begin to tear their men down, unless you intend to offer words of edification and steer the topic back toward the good that our husbands do, which I highly recommend.
Cindy asked: What are some things you can say TODAY to let your spouse and others close to you know that you think the world of them?
Here are just a few of my suggestions...
1. Speak favorably about him and to him. Tell him what you admire about him.
2. Text him or leave him love notes somewhere where he is sure to see them. My friend sent her husband a text the other day that said something to the effect of, "You will be the sexiest man today wherever you go." I thought that was cute! I think she texted him back later and said something like, "Look around....yep, still the sexiest..." I love it!
3. Be quick to say, "Thank you!" for even routine things he does around the house.
4. Tell your children what a great guy Daddy is. Ask them to think up one kind thing to do for him when he gets home because he's Daddy and he deserves it!
It was nice visiting with you At the Well this morning. Please be sure to visit Cindy's blog and share your ideas for how to build up your husband and speak positively about him to others. Also, follow the instructions she has there for the Mr. Linky thingy deal.

Blessings & Love,