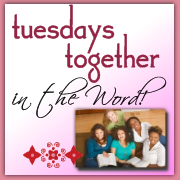 It's a wonderful experience to be in God's Word daily. I'll touch more on that subject tomorrow, so be sure to come back for my WFW post.
One of the things that spoke to me this week was the speech Stephen made in
Acts 7
before he was stoned to death. Oh, that I would be so bold and faithful and know so much of God's Word were I facing martyrdom. This drives me to want to memorize more and more Scripture.
Of course, the conversion of Saul was a wonderful thing. The fear and faithfulness of those who attended him spoke to me, too. Do you find yourself skeptical when someone who is known to be "the worst of sinners" comes to the faith? I pray that I would respond in faith as Ananias did, tending to their spiritual needs and helping them grow in faith, trusting God to provide the true healing of their souls.
Judgement would take a huge back burner here, as it did for Peter when he had the vision of the large sheet holding all those foods that Peter thought were surely unclean. God clarified that we are to call nothing, including food or people, unclean or impure in

Acts 10:15.

Just as all foods were declared clean, isn't it wonderful to know that we are grafted in to the family of God, the chosen ones of Israel? Peter would face a crisis of faith that would lead him to a certainty that Jews and Gentiles were both loved by God and saved by the precious blood of His Son.
One thing I have been meditating on is Psalm 19:7-11.
"The law of the LORD is perfect, reviving the soul. The statutes of the LORD are trustworthy, making wise the simple. The precepts of the LORD are right, giving joy to the heart. The commands of the LORD are radiant, giving light to the eyes. The fear of the LORD is pure, enduring forever. The ordinances of the LORD are sure and altogether righteous. They are more precious than gold, than much pure gold; they are sweeter than honey, than honey from the comb. By them is your servant warned; in keeping them there is great reward. " ~ Psalm 19:7-11 (NIV)

The Hebrew word for law is towrah. It means:
1) law, direction, instruction
a) instruction, direction (human or divine)
1) body of prophetic teaching
2) instruction in Messianic age
3) body of priestly direction or instruction
4) body of legal directives
b) law
1) law of the burnt offering
2) of special law, codes of law
c) custom, manner
d) the Deuteronomic or Mosaic Law
This is the foundation of the Jewish religion. In the Law is found many prophecies of Christ. It's surely what the saints in the NT had to refer back to in living out their faith after Christ rose from the grave and went Home to Heaven 40 days later to prepare a place for us before He comes back to get us.
The Hebrew word for perfect is tamiym. It means:
1) complete, whole, entire, sound
a) complete, whole, entire
b) whole, sound, healthful
c) complete, entire (of time)
d) sound, wholesome, unimpaired, innocent, having integrity
e) what is complete or entirely in accord with truth and fact (neuter adj/subst)
Doesn't that just beautifully describe God's Word? It is complete, whole, and trustworthy. It is healthful to our hearts, minds and even our bones. When we take God's Word as it is, whole and perfect, we try our hardest to live lives of holy conduct. This includes taking care of our bodies, which is an area I'm growing in right now. As I struggle with an issue over self-control regarding one area of my body, this passage speaks volumes to me and helps me understand that God's Word is so very personal. It's revived my soul to try to take captive the area that I'm struggling in and turn it over to God. I'll go ahead and confess my issue right now. I am a smoker. Of the cigarette kind. I want my body to be healthy but this addiction is one that is hard to break. I find myself smoking less on the weekends, which is a good thing! I mainly struggle at work or on long car rides. But if I believe God's laws to be perfect, and I do, I know that that I must be obedient to His Word and treat my body as His holy temple. I won't be smoking in Heaven, so I may as well start preparation for an eternity of not smoking by honoring this body He gave me here on earth. I hope you don't think less of me for smoking and confess that it concerns me that some will judge me as not being faithful in my walk with Christ. Once I have manifested the fruit of self-control in this area, if I still feel so called, I'm going to publish a book of devotions. I can't until I quit smoking, though. The Lord just won't let me. I know in my heart that although I cannot be perfect, I cannot willfully keep harming my body in this way and setting such a poor example.
The Hebrew word for warned is zahar. This verb means:
1) to admonish, warn, teach, shine, send out light, be light, be shining
a) (Niphal) to be taught, be admonished
b) (Hiphil)
1) to teach, warn
2) to shine, send out light (fig.)
I consider myself warned and that's why I share His Word and what I am learning with others through blogging. I love to teach and shine for Jesus. He has redeemed this dark shell of a body and radiated His light through salvation, admonishing me to share with others. I have never been so bold in my life, ya'll! I have a sister in Christ in-real-life that I can bounce ideas off of and I love sharing things that I've learned through writing. God's Word brings me joy and gladness and serving
Him this way is one of the reasons my heart beats.
"Keep your servant also from willful sins; may they not rule over me. Then will I be blameless, innocent of great transgression." ~ Psalm 19:13 (NIV)
What are willful sins? One like I mentioned above. Abusing your body with harmful substances such as nicotine is not a good thing. It's a total lack of self-control, too. Surely it is an addiction, but I cannot say, "Oh, well. I can never be cured. I tried and who's perfect anyway?" No, I am to strive toward living a life that is holy and pleasing to God. Knowing I am engaging in any willful sin (and I'm not saying smoking is a sin for everyone; however, it is for me - there is no judgement here on anyone else but myself) hurts and I don't want sin to rule over me.
The Hebrew word for willful is zed. It means:
1) arrogant, proud, insolent, presumptuous
a) the arrogant ones (as n coll pl)
b) presumptuous (as adj)
OUCH! Who says God's Word cannot be convicting? Not me!
The Psalmist implored God, "may they not rule over me."
The Hebrew word for that phrase is mashal. It means:
1) to rule, have dominion, reign
a) (Qal) to rule, have dominion
b) (Hiphil)
1) to cause to rule
2) to exercise dominion
Back to that self-control thing again. We must bear this fruit of the Spirit! We must not let anything but God rule and reign over our lives. Certainly we are to submit to governing authorities, but you know what I'm saying here, and what I believe the Psalmist is saying. He's talking about sin, not governing authorities. He wants to live upright and innocent, as do I.
The Hebrew word for innocent is naqah. It means:
1) to be empty, be clear, be pure, be free, be innocent, be desolate, be cut off
a) (Qal) to be empty, be clean, be pure
b) (Niphal)
1) to be cleaned out, be purged out
2) to be clean, be free from guilt, be innocent
3) to be free, be exempt from punishment
4) to be free, be exempt from obligation
c) (Piel)
1) to hold innocent, acquit
2) to leave unpunished
Christ paid all our debts when He died for us on the Cross. I just want to be able to say that I didn't hurt Him one further by continuing to willfully sin. As He bore our sins He suffered a great deal. What if I quit tonight? Does that mean it hurt Him just a little less when He bore our sins? Oh, my heart grieves to think that I could have quit months or years ago and spared Him one more ounce of pain.
Which brings me to the verse I pray every day and night.
"May the words of my mouth and the meditation of my heart be pleasing in your sight, O LORD,
my Rock and my Redeemer." ~ Psalm 19:14 (NIV)
The Hebrew word for pleasing is ratsown. It means:
1) pleasure, delight, favour, goodwill, acceptance, will
a) goodwill, favour
b) acceptance
c) will, desire, pleasure, self-will
I want to know that I please and delight God. That His goodwill and favor rests upon me and that my words and innermost thoughts are pleasing to Him.
I've kept you long enough. Let me leave you with his. Dive into His Word and make it real and personal to you! Let me tell you, the Old Testament is anything *but* boring! It sets the stage for so much of the New Testament and is so rich in history. You'll recognize names, as in the case of Stephen's speech in Acts. You'll learn more and it all just ties so neatly in together.
I have so much to do today - doctor's appointments and meetings at work. I'll be catching up on emails and reading your blogs later today. I can't wait to stop by and catch up! I kind of took the weekend - Monday off from that because we were off work. I spent the day with my beloved. We had a great day!
Blessings & Love to all...