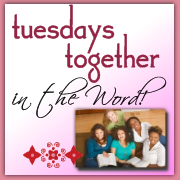 Welcome to Tuesdays Together in the Word, hosted by DeeDee at I Have No Greater Joy...

We are a group of women reading through parts of the New Testament, Psalms and Proverbs this year, using a reading plan posted on DeeDee's site. Please join in. No need to start from the beginning. Just join us where we are!

Nuggets I gleaned from this week are:

Somebody Put Paul on CNN or Fox News


"If anyone teaches false doctrines and does not agree to the sound instruction of our Lord Jesus Christ and to godly teaching, he is conceited and understands nothing. He has an unhealthy interest in controversies and quarrels about words that result in envy, strife, malicious talk, evil suspicions and constant friction between men of corrupt mind, who have been robbed of the truth and who think that godliness is a means to financial gain.
But godliness with contentment is great gain. For we brought nothing into the world, and we can take nothing out of it. But if we have food and clothing, we will be content with that. People who want to get rich fall into temptation and a trap and into many foolish and harmful desires that plunge men into ruin and destruction. For the love of money is a root of all kinds of evil. Some people, eager for money, have wandered from the faith and pierced themselves with many griefs." ~ 1 Timothy 6:3-10 (NIV)
Would is just not be fantastic to put Paul on one of the major news networks? Give him his own show? He is one who tells it like it is, and the verses above seem ripped from today's headlines. Right after this Paul encourages Timothy, well, actually tells him flat out, "But you, man of God, flee from all this, and pursue righteousness, godliness, faith, love, endurance and gentleness. Fight the good fight of the faith. Take hold of the eternal life to which you were called when you made your good confession in the presence of many witnesses." ~ 1 Timothy 6:11-12 (NIV)
We surely should be about the business of God, purusing righteousness, godliness, faith, love, endurance and gentleness. We must fight the fight of faith and do it in front of others!

What More Could I Ask For?
"One thing I ask of the LORD, this is what I seek: that I may dwell in the house of the LORD all the days of my life, to gaze upon the beauty of the LORD and to seek him in his temple. For in the day of trouble he will keep me safe in his dwelling; he will hide me in the shelter of his tabernacle and set me high upon a rock." ~ Psalm 27:4-5 (NIV)
What more could I ask for? The Psalmist knew that God provided the only peace and safety and eternal life there is. I know this, too, and I praise Him for it! It's a good feeling to be able to rely on God when times are so uncertain, isn't it?
The Good is Here
"I am still confident of this: I will see the goodness of the LORD in the land of the living. Wait for the LORD; be strong and take heart and wait for the LORD." ~ Psalm 27:13-14 (NIV)
I see the goodness of the Lord around me. Things are not all doom and gloom in the world. When the lights do go out, waiting and being strong in the Lord are instrumental in hanging in there; however, looking around me now, I can see the goodness of the Lord in the land of the living. From babies being born to souls being saved, from new friendships to blessings of redemption, God's handprints are all over this world. Even though we live in a fallen world, God has not forsaken us. His goodness and beauty surrounds us. We do not know it in full now and will not until we get to Heaven, but look around you at the good things, the best of things, and see what a foretaste of Heaven we do have. Can you imagine?!
Lest this post get too long I'm going to stop here. Reading God's Word is a wonderful thing. Won't you join us?