Awards Day



Jennifer, of through the storms of life..., has blessed me with a beautiful award. I'm touched and humbled by it. I pray I continue to be "kreativ" and live up to the award! Please visit her blog - it's great! You'll definitely be blessed by her posts.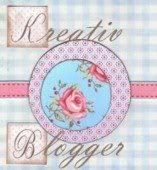 I'd like to share it with you.
Leave me a comment with a Bible verse that's spoken to you this week. Snag the award, and spread the love with "Kreativ Bloggers" in your life.
Much love,